Yesterday, we learned that "Shortcuts" are not always the BEST or most effective paths to take.
As the story continues...
Husband: "Honey, I fixed the shelf until the new one comes in."
Wife: Knowing full well what "fixed" meant. She took her camera again to the frig door.
Here you have the husband's fix, yes...DUCT TAPE!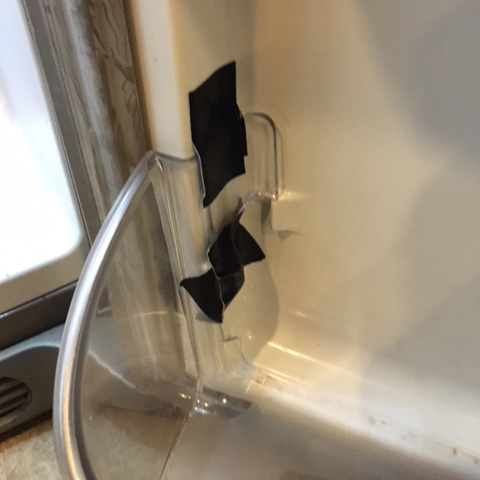 So we now have a "duct taped" shelf in our refrigerator door. The problem with this "fix" is that it is a "matter of time" before it becomes "broke" again.
See the problem is the shelf only had a band-aid put on it and it needed to be REMOVED and REPLACED!
Let's apply this to our relationships...
1) Shortcuts will not be the path to travel for relationships.
God created relationships to be developed over a period of time. You cannot microwave them or speed them up. They do not work like Instagram, snap-chat or any other "quick" technology. They take time to develop!
2) We cannot shortcut our walk with Christ as well. God is shaping, forming, molding, developing and processing our relationship with Him daily. You might say we are "under construction." He is always ready and willing to take us to the next level!
3) Band-aids eventually wear out. If we take a shortcut and endure pain and challenges and we try to "fix" our cracks and breaks in our relationships with "band-aids," those breaks will "resurrect" and need attention again. The band-aid will only work for a short period of time.The only sure way to heal anything is through total surrender to God and allow His healing balm of Gilead to wash through our entire beings.
But wait! This story continues tomorrow with a whole new twist. God truly does speak if we listen in the every day events of life. Tune in tomorrow....for Shortcuts Part 3!